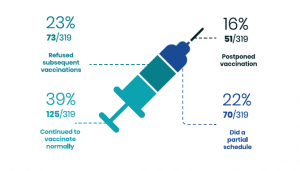 Vaccination in Dravet Syndrome
As a result of a joint effort of more than 15 national patient organizations, "Vaccination in Dravet Syndrome – a European survey" collected data from 319 caregivers. Analyzing behavior after the first vaccination and also the correlation between vaccination and the first seizure (considered to be overestimated by parents), the study proposes some considerations and also concludes with some significant requests to the scientific community.
You will find all information on "Vaccination in Dravet Syndrome – a European survey" in the infographic herewith.
98% of the patients participating in the survey had a clinic and genetic diagnosis, while the remaining 2% were not sure yet at the date of the investigation. Data from the survey was collected in 2018 across the Dravet communities in Poland, Germany, Italy, France, Spain, Netherlands, UK, Croatia, Portugal, Romania, Norway, Switzerland, Belgium, Sweden and Austria.
This is the second large survey organized by DSEF after Discuss – Quality of life and comorbidities associated with Dravet Syndrome severity: a multinational cohort survey, in 2017.