23 Jun

Dravet Awareness Day 2022

We are smiling, we are kind, we are fearless, we are happy, we are heroes… We are everything we want to be!

On the occasion of Dravet Awareness Day, which we celebrate every year on June 23, we are showing the world different faces of Dravet from across Europe. With this purpose, Dravet Syndrome European Federation (DSEF) has put together a video featuring patients and their family members from across 12 different countries, although our community is much larger, with at least 1,500 known children and adults affected by this diagnosis living in Europe.
No matter their home country, these patients' struggles are the same. However, the support and solutions they are offered are quite different. We would therefore like to send out today a message of equity, a pledge for all Dravet patients to have similar chances across Europe: early diagnosis, access to medical services and to treatment, therapies and social care.
What unites us is also making us stronger – and this year's awareness banner is the strongest ever: 31 patient organisations around the globe are standing together for June 23 to say: WE NEED A CURE!
Created at the initiative of DSEF, currently formed by 17 member organisations from 15 European countries, the visual is the creative work of volunteers from Dravet Syndrome e.V. in Germany.
Along with members of the DSEF, there are also Dravet Syndrome Foundation from the US, Dravet Canada, Dravet Japan, Dravet Taiwan, a group of Dravet patients from China, as well as organisations and patients' representatives from South America – Argentina, Bolivia, Brazil, Chile, Colombia, Uruguay.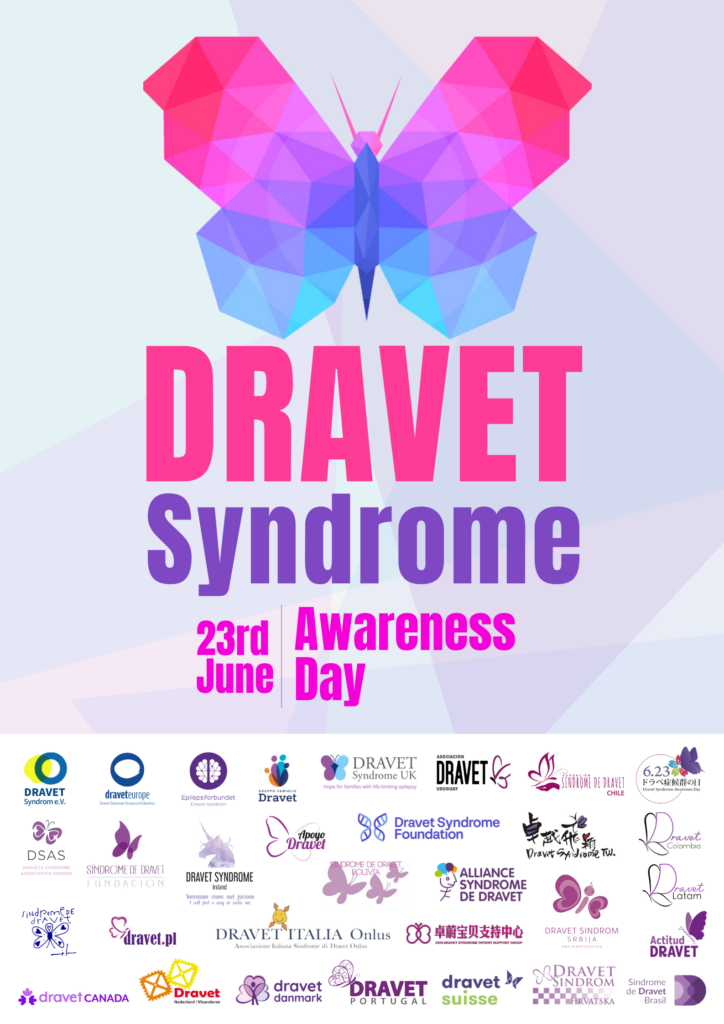 Dravet Syndrome is a catastrophic epileptic and developmental encephalopathy. Usually appearing in infancy, it is characterized by frequent different seizure types. Due to frequent status epilepticus, hospitalizations are often required. Dravet Syndrome has a high SUDEP rate.
Epilepsy is not the only issue in Dravet Syndrome. Patients often develop: motor and speech impairment, behavioral disorders, cognitive impairment, gait disorders, food disorders, sleep disorders, autism.
Dravet Syndrome with its comorbidities severely affects the quality of life of patients and their families.
Despite all these, we are much more than a diagnosis. But we need a cure! Join us and donate for a life without Dravet Syndrome!